December 15, 2015
Advanced Ship-To-Ship Solutions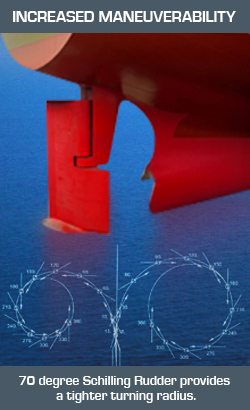 Teekay's high-performing lightering vessels and equipment are such because we designed these vessels from the most exacting ship-to-ship tasks.
Teekay's team of designers, naval architects and engineers carefully monitor customers' needs and continually review our fleet design to optimize performance and safety. Teekay's lightering fleet and support vessels are designed for efficiency, integrating advanced features to enhance maneuverability. Add 90 years' seagoing experience in the mix and customers are assured of 'best value' marine transfer at every location.
We have incorporated MAN B&W ultra low speed engines capable of dead slow ahead speeds of 2.5 knots. The engine RPM can also be reduced to 20 RPM. We added a bow thruster that have 2,000KW and gives our Teekay lightering machines precise position corrections at the most critical stages in the lightering procedure. The 70 degree schilling rudder allows for a much tighter turning radius than that of the typical 35 degree rudder available on standard lightering vessels. These unique features allow us to maneuver alongside the ship to be lightered while she is at anchor or drifting and hence reduces the amount of sea room needed to bring the vessels together. During berthing and unberthing, the new Teekay lightering machines use less tugs, enhancing productivity within the port.
Being alongside offshore is a high risk component of the transfer operation. It is for this reason that we have designed double wall hoses for extra protection. We can also operate at 80,000 BPH, which means less time alongside to further insure safety. The emergency release coupling can be activated either via cable or manually. The emergency release will also have an integrated valve that will close, blanking off the hose and releasing from the manifold. This happens much faster than the CamLock system commonly used. The increased deballasting capability ensures the vessel is capable of loading at the designed 80,000 BPH without restricting the operation. The pump-room and bunker tanks are securely located within the double hull to further reduce oil spills in a grounding or collision.
For more information on advancements in ship-to-ship solutions, visit our innovation page.
Lightering Operation Enhancements
All of our newly designed lightering machines are outfitted with primary and secondary fender davits and fenders. The crane has a boom that is capable of a 32 meter outreach and is certified for personnel transfers. This amazing length services both sides of the vessel, offers tremendous versatility and better drainage of the 90 meter hoses and a more time efficient connect and disconnect. All of the newly designed chocks are closed and outfitted with wires.
Looking to perform a ship-to-ship transfer or simply want to learn more? Visit our oil ship-to-ship and gas ship-to-ship page.